The folks at the Upperroom were invited to an exclusive screening of IMAX Under the Sea at the Omni Theater at the Science Centre on Tuesday. What happened was that the good people at Mead Johnson who by the way are the guys behind the Enfa milk powder brand has tied up with the Science Centre where every purchase of Enfagrow A+/EnfaKid A+/EnfaSchool A+ will entitle you to a complimentary ticket for one child into the Science Centre. In addition, the voucher includes discounts for other attractions such as Snow City and Omni Theatre. So the bunch of us (including Ms Grace Fu, Senior Minister of State, a group of kids from Gracehaven, lots of children with their parents) trooped into the theatre from 6.50pm onwards for the screening of Under the Sea.
After we were seated, I was bombarded by questions from the girl as I told her we would be watching a movie about fishes, she kept asking me where was the movie, where were the fishes? To pacify her I told her that the fishes were inside that large dome in the middle of the theatre and she spent the next 10 minutes or so of waiting peering suspiciously at that dome.
When it started, the boy was enraptured! Pointing excitedly at the bigger-than-life marine life swimming right in front of him! The girl on the hand was concerned as to why the theatre seemed to be moving (because the screen goes all around, right down to the ground, if you focus your attention at that point, it would seem that you are revolving), that I had to constantly remind her to look in front instead of down.
As expected, the pace of the IMAX movie was slow but there were some really amazing scenes that I have not seen before. There was one particular scene of tens and hundreds of eels with their ends stuck in sand and their bodies sticking up and their mouths trying to feed on whatever that was adrift in the water. That was both goosepimples-raising and fascinating.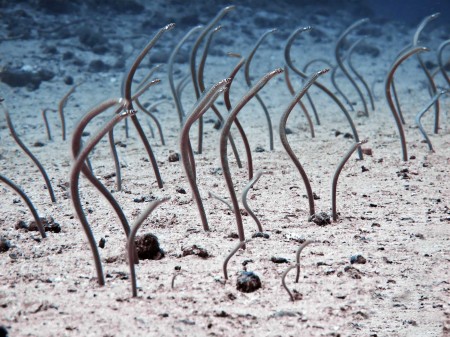 Something like this
(Photo taken by Jan Messersmith, a missionary in PNG)
There were also many scenes of bigger marine animals preying on small fishes and Talia was actually scared. She covered her eyes and said she didn't want to see. There was a scene of a sea turtle chomping parts of a jellyfish off and she was so upset!
The movie was 50 mins and I could only honestly say that the boy enjoyed himself more. As we were walking down, the girl suddenly exclaimed to me, "Mummy! there are no fishes in there!" as we were passing the dome! I had a hard time trying to explain that away. Remind me not to say something for reasons of simplification and have to dig a bigger hole to explain that later!